Speaking out
For Día de los Muertos, Women Organized to Resist and Defend (WORD) in San Francisco joined the Day of the Dead procession through the Mission with our "feminist noise." The action was to add the call for justice and remembrance of those who have experienced domestic and gender violence to this march of honoring the dead. Women came together to raise their drums and voices to demand "No queremos machos que nos asesinen! We don't want your sexism; no more gender violence!", "Mujeres, Latinas, siempre unidas!" and "Women united will never be defeated!" At Garfield Park, WORD had an altar dedicated to those who have lost their lives die to gender violence and to those who have fought and who continue to fight violence against women. Many stopped by to look at, take pictures and add candles to the memorial.
Read more
On this day we will honor and salute the many who have fought for justice and trans liberation.
Despite the many deaths this year of transpeople due to bigoted violence, Caitlyn Jenner's coming out has been one of the most talked about transgender-focused stories in the media, with both positive and negative reactions. In contrast to Jenner's wealth and public status, activists have called attention to the high levels of poverty and homelessness faced by the trans community and have demanded justice for transwomen misgendered and abused in prisons and detention centers. The ongoing struggle for existence waged every single day by the trans community is largely ignored by mass media.
Read more
The last several months have seen women's right to abortion access under attack yet again. This time, it is a return to the strategy of attacking women's right to choose by attempting to discredit and defund Planned Parenthood. In reality, this is an attack on poor and working women and their access to abortion and a variety of preventative health care services. 
Read more
On Monday, June 29, the United States Supreme Court handed down what is essentially a temporary stay of execution for abortion clinics in Texas. In a 5-4 decision, the court put on hold two components of HB 2 that would have gone into effect on July 1. This stay will remain in effect while the court decides whether they will hear the clinics' appeal.

The Texas omnibus abortion bill, often referred to as HB 2, gained notoriety in the summer of 2013 when state Senator Wendy Davis filibustered a special session for 11 hours. Hundreds of Texan women from all over the state flooded the atrium of the Capitol Building for several days. Prochoice supporters from all over the country took to the streets and social media to show support for the struggle being waged in Texas. 
Read more
WORD (Women Organized to Resist and Defend) joins the call to demand freedom for Purvi Patel, a 33-year-old Indian-American woman in Indiana who was outrageously sentenced to 41 years for miscarrying a pregnancy. This is the first conviction under a state's feticide law against the pregnant woman herself, rather than a third party, for which the laws were originally intended. Using inconclusive evidence, Purvi was convicted on two contradictory charges: "feticide" and "neglect of a dependent." "Feticide" requires that the fetus was still in the womb, unborn, while "neglect" requires that the child was born before it was neglected. It is outrageous that a prosecutor not only brought these charges in the first place, but that a jury found her guilty, and a judge moved forward with sentencing.
Most of the feticide laws that have been enacted now in 38 states were designed to protect pregnant women from crimes of violence, like domestic violence or car accidents, not to protect fetuses from pregnant women. The interpretation of the feticide statute in Indiana is setting a dangerous precedent. The door is now open for other state fetal homicide laws to be used to prosecute the very women that the laws were supposedly designed to protect.
Read more
WORD celebrates International Women's Day
with events and actions!
See details of events taking place this Saturday, March 14
Originating more than 100 years ago, International Women's Day or Working Women's Day celebrates the political, economic and social gains of women won through struggle.
On March 8, 1857, New York women took to the streets to protest dangerous working conditions for women textile workers. Exactly 51 years later, 15,000 women marched through New York demanding shorter hours, the right to vote and an end to child labor.
Although International Women's Day has its origins in the United States, it was not recognized as a day of international significance until 1913. Then, in 1917 in Russia, International Women's Day demonstrations demanding "bread and peace" in response to the 2 million deaths of Russian soldiers in World War I merged with another strike, sparking the revolution to remove the Czar. Subsequently, the provisional government granted women the right to vote. To this day, International Women's Day serves as a reminder that our place is in the streets and that our work is not done.
In the United States and around the world, women have not yet achieved full social, political or economic equality. We continue fighting to keep the gains we have made and mobilizing to demand full equality. This is the way we honor International Women's Day: as a celebration of struggle and a day to look ahead towards continuing to build the struggle for women's equality.
On International Women's Day and throughout the month, WORD (Women Organized to Resist and Defend) will be organizing and supporting rallies, marches, speak-outs, forums, workshops and panels to celebrate the gains demanding "Say no to the status quo—full equality for all women!" Join us in cities across the country Saturday, March 7 - Saturday, March 14, 2015. 


International Women's Day: List of events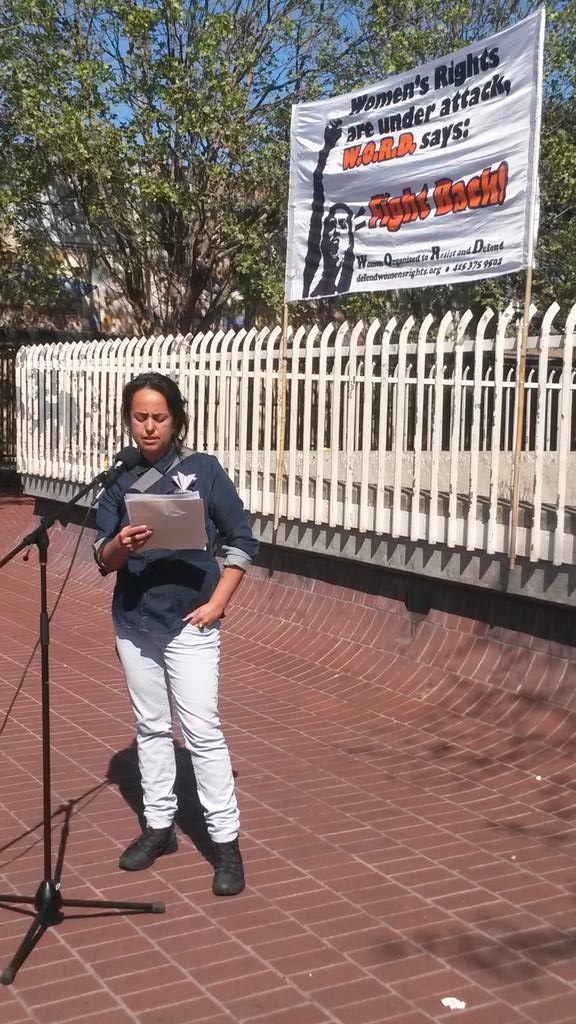 WORD chapters organized and participated in events across the country to mark International Women's Day with struggle. Pictured above, Evelyn Martinez, teacher, speaks out for women's rights in San Francisco, Mar. 8.
Join WORD on March 14 in a city near you or call an action in your city and add it to the list!

Upcoming Event Listing:
Chicago, IL
Forum: Celebrate Women's History Month: Say no to the status quo-full equality for all women!
Saturday, Mar. 14th, 2 p.m.
4802 N. Broadway, Second Floor
Sponsored by WORD Chicago
Info: [email protected] or 773-828-9205
For more info and to RSVP
New York City, N.Y.
Women Rise Up: 'It Is Our Duty to Fight for Our Freedom'
Celebrate International Women's Day and Women's History Month
with Education and Action!
Saturday, Mar. 14th, 11 a.m. - 5 p.m.
Arts Horizons LeRoy Neiman Art Center
2785 Frederick Douglass Boulevard
Childcare will be provided
Co-sponsored by WORD NYC
Info: [email protected] or 347-292-WORD (9673)
For more info and to RSVP
End the racist and sexist "criminal justice" system!
Marissa Alexander, the Florida woman who was prosecuted for defending herself from an abuser by firing a single warning shot, was released on Jan. 27 after three years of incarceration and house arrest. The prosecutor, Angela Corey, had initially sought to imprison Marissa for 60 years, eventually pushing her to accept a plea deal in November 2014 to avoid what would have essentially been a life sentence. On the day of her release, Corey tried to add two more years of probation to Marissa's sentence, but Judge James Daniel denied this request.
Angela Corey is the same State Attorney who refused to have George Zimmerman arrested for murdering Trayvon Martin on the basis of Florida's Stand Your Ground Law. Nevertheless, her office argued that the defense did not apply to Marissa Alexander, an African American mother of three.
Despite her release with credit for time served, Marissa is still sentenced to two years of house arrest, and she has three felony convictions on her record. Over the next two years, she is restricted to her home, subject to electronic monitoring, except for approved appointments and employment.
The attack that led to the arrest took place in 2010, nine days after Marissa, then 30 years old, gave birth to a daughter with her abusive husband, Rico Gray. Despite the fact that Marissa survived being choking and herself injured no one, a jury initially convicted her of aggravated assault, after only 12 minutes of deliberations, for firing one warning short into the ceiling using a gun that was licensed and permitted to her.
Marissa explained that she pleaded guilty to avoid having to subject her children to the trial. The court process frequently re-abuses survivors of domestic violence by subjecting them to the trial process.
Marissa's prosecution and imprisonment was based on a racist and sexist criminal justice process that criminalizes women who survive abuse. She should not have spent one day in prison, and she should never have had to defend herself from prosecution.
While the struggle for Marissa's freedom is not over, WORD congratulates Marissa Alexander, her family and her supporters nationwide on her release and return to her family. We are dedicated to continuing the fight for Marissa's complete freedom, and for an end to this racist and sexist criminal injustice system.
By WORD organizer Jackie Mautner
On December 28, 2014, we lost a creative and promising teen. In her suicide note, Leelah Alcorn said: "The life I would've lived isn't worth living in … because I'm transgender." It is utterly tragic that so many teens like her don't find the support they need, whether it's at school, at home or more broadly speaking – in society. Leelah wanted her death to mean something, and it does as long as we commit to continuing and intensifying the fight for the rights of trans and gender non-conforming people.
The suicide attempt rate for transgender people overall is 41 percent, but higher still for young trans people – 45 percent of transgender people ages 18-24 attempt suicide.
In a study based on data from the National Transgender Discrimination Survey, the influences behind these suicide attempts are summarized: "Based on prior research and the findings of this report, we find that mental health factors and experiences of harassment, discrimination, violence and rejection may interact to produce a marked vulnerability to suicidal behavior in transgender and gender non-conforming individuals."
As a trans woman who suffers from mental health issues, I understand the obstacles that many of us face, as well as the sheer scale of the struggle that must be waged. I've spent countless hours in various medical facilities where professionals refused to acknowledge my identity, or if they did they treated it as a disorder. But I can only imagine the level of pain inflicted on those like Leelah, forced into Christian "conversion therapy" by their parents.
Trans and gender non-conforming people are subject to discrimination not only in crucial areas such as healthcare, but also in housing, employment and education. When we move between those areas of our lives, we're subject to street harassment and all forms of violence. And for many, even home may be an abusive environment, whether due to family members or partners.
When building and organizing for liberation, we should remember the words of Audre Lorde, who said, "There is no such thing as a single issue struggle because we do not live single issue lives." Trans people may also experience racism, national oppression, sexual oppression, and anti-immigrant bigotry, and are targeted by the criminal justice system and prison industrial complex. Our oppressions collide in brutal ways. Ultimately, what joins all of us is that we are people deserving of rights, including the right not to be harassed, or beaten, or killed.
As a militant grassroots women's rights organization, we must look out for all of our sisters and be with them in the streets, whether it is for a vigil in remembrance of those we've lost such as Leelah, or to hold demonstrations to demand the rights and respect we deserve.
WORD unites behind the slogan "when others are oppressed, no woman can be free!" We fight against all oppression, and stand with the most marginalized. Join us in the fight for trans liberation and the liberation of all women!
On the first day of the new Congress, a bill proposing a nationwide draconian restriction on the right to abortion was re-introduced. With all the current issues faced by working people in this country, the priority for House Representatives Trent Franks (R—AZ) and Marsha Blackburn (R—TN) was to attack and restrict women's rights. They submitted HR 36, also known as the "Pain Capable Unborn Child Protection Act," which would ban all abortions after 20 weeks (with particular exceptions for rape, incest and physical harm to the woman).
Support for this bill is based on the faulty premise that fetuses can feel pain at this point of development. Rep. Franks goes so far as comparing abortion to torture, and claiming that many of the fetuses that are aborted at these later stages are capable of surviving outside of the womb. This claim is not true.
The truth is that this bill intentionally misinterprets science and presents a package of lies to pull on heartstrings and manipulate public sentiment. It takes a direct shot at women's rights—primarily the right to an abortion as decided in Roe v Wade.
Let's look at the truth behind HR 36.
The 1973 decision handed down by the U.S. Supreme Court in Roe v. Wade held that abortion must be legal for women up to the point of "viability." This is marked by the point in which the fetus is capable of prolonged life outside the womb, which occurs between the 24th and 28th weeks of pregnancy. HR 36 is a direct challenge to the right of women to access abortion up to this point, and bills like it already have been struck down at the state level due as unconstitutional (including in Rep. Trent Franks' own state of Arizona).
The idea of pain being felt by 20 weeks is based on intentionally misconstrued science. What is commonly promoted as proof of "pain capability" is the development of the pathways within the brain that perceive pain and other sensory information. However, according to the UCSF Bixby Center for Global Reproductive Health, just because this "sensory wiring" is present within the brain does not actually mean that it is functional. Based on the best available scientific evidence, pain is not capable of being experienced by a fetus until at least the third trimester, and likely not until birth. (See "Fact Sheet: Fetal Pain, Analgesia, and Anesthesia in the Context of Abortion" from Advancing New Standards in Reproductive Health (ANSIRH), a collaborative research group and think tank at the University of California, San Francisco (UCSF)'s Bixby Center for Global Reproductive Health, Issue Brief #1, June 2010.)
This bill isn't about "fetal pain." It is about finding more and more ways to chip away at a woman's right to control her own body. It is about trying to take away rights for which women fought for decades – and won.
The truth is that this bill would outlaw the 15,000-18,000 abortions at 20 weeks or later that occur annually, or about 1-1.5 percent of the total number of abortions performed in the United States. There are many reasons that women choose to have abortions during this time of their pregnancy. While women have the right to decide what is best for them and their families, studies have shown that many women who have abortions later in their terms wanted to have done so sooner, but did not have the means to access services – making this a right in name only. In addition to the struggle to overcome the many restrictions that women are forced to jump through in this country to access this right, many working women do not have the hundreds of dollars required for an abortion in the first weeks. By the time that they are able to pull together the $500 or $600 required, the cost has doubled or tripled, pushing them to have to return even later.
What women really need is to have contraception and abortion available for free to all, and to have comprehensive sex education.
While these politicians talk patronizingly about how they are doing "what is best" for women with each new restriction and hurdle, all they do is push poor and working women into increasingly difficult and unsafe positions. At the same time that access to reproductive care is under attack, social services are slashed.
Some will say that the lesson here is that women and their allies must vote in every election. WORD (Women Organized to Resist and Defend) says that we should take the lesson of our foremothers: When we act together, we are strong.
It was the militant struggle of women that led to the famous Roe v. Wade decision. It was the united raised voices that brought awareness and change in the struggles against domestic violence and rape, against racism, and for LGBTQ and workplace rights. Women have been leaders in the struggles for justice and equality for more than 100 years, and we continue to be so today. We can see the impact that we have had in these last years as we have worked to beat back anti-choice legislation, spoke out together to combat the daily violence against and harassment of women, and led marches in our communities against racism and police terror.
The path to defeating these attacks is through uniting and fighting together. It's time to organize and fight back!
This Fall, a group of anonymous students at Fordham University in the Bronx, N.Y., have been taking action against the school's unsafe policies banning the distribution and prescription of contraceptives on campus.
Fordham's policy denies students access to contraceptives on campus, including the prescription of birth control from the health center and the distribution of condoms. Medical personnel are prohibited from even giving advice on such matters. The Fordham administration defends these restrictions on religious grounds, though many students attend the university for its academic programs and not its religious affiliations
Read more